I don't have much time today but I just wanted talk about how good this kid is. A Man among boys. The kid is putting up Big time numbers. I like him more then Kevin Durant at this point last year. Beasley is avging 24 ppg and 12 rpg. I am sure he is one and done after this year. He makes KSU a big time threat come tournament time. One great player can get you through the tourney. Just ask Mellow and the Orange Men.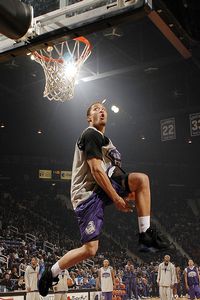 I got a chance to watch him last Saturday and I was impressed. I saw 3 point shots,big rebs and fade away jumpers. The kid can flat out play fucking ball. They were playing Texas A&M so now push over. If I had a pick in the draft I would take him number one at this point. I think O.J Mayo is a joke at the moment. I would take this kid any day of the week. I just wanted to say that. It's nothing special and maybe my worst post since I opened the SC doors. If you get a chance to see Michael Beasley this season, watch this stone cold fucker. He's gonna be a star.
Speaking of stud athletes, yesterday's Terrelle Pryor mail bag got alot of traffic. No one wonder so many schools are after this kid. The kid is Pure blogging gold at the moment. Alot of talk today was that the O$U is trying to pay him through a PA business man who knows Pryor who would like him to attend Ohio State Money Union University. Word on the street is that he has a new Corvette too? Hmmm Even Chris Webber wasn't sporting rides like that before coming to Michigan. So I guess we will keep an eye on that. I guess he's got a visit to go see Oregon Duck the Nike mega machine. So anything can happen but I don't put much stock into them. My inside sources say he stays close to home. Damn it Pryor! You got this Blog but the NUTZ! Enough classy writing...